Upcoming Events
Children/Teen Etiquette Class
November 12, 2017 11:00am – 3:0pm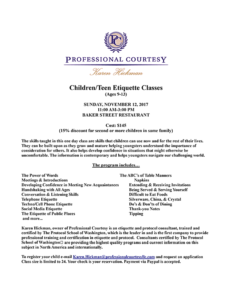 (click on image to view/download information for event)
---
Past Events
Professional Development Leadership Workshop
June 23, 2017 8:30am – 3:30pm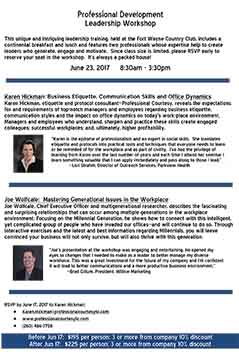 (click on image to view/download information for event)
---
Professional Courtesy Leadership Workshop
June 5, 2015 8:30am – 3:00pm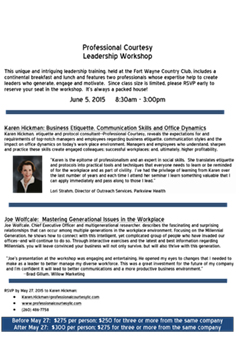 (click on image to view/download information for event)
---
Building Confidence in Yourself, Leadership Workshop
October 3, 2014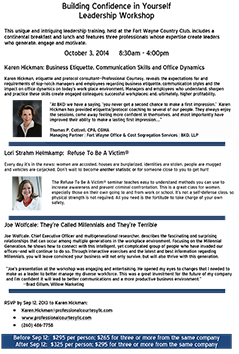 Leadership Boot Camp
Training that will lead you to the next level!
Date: Friday, June 22, 2012
Time: 8:30am – 2:30pm
Location: Fort Wayne Country Club, Fort Wayne, IN
---
It's time to focus on developing YOU! Leadership for the AGES!
Date: Friday, June 17, 2011
Time: 8:30am – 4:30pm
Location: Fort Wayne Country Club, Fort Wayne, IN
---
Travel Leaders Cultural Seminar: Understanding Cultural Differences
Date: April 19, 2011
Time: 7:30 – 9:00 am (continental breakfast included!)
Location: Sheraton Indianapolis Hotel & Suites, Keystone at the Crossing, Clearwater Ballroom, Indianapolis, IN
What Our Clients Are Saying:
During the Leadership for the Ages presentation, Karen matter-of-factly describes behaviors that have emerged as a result of all the new technology and points out what behaviors are relationship honoring, what are merely acceptable and what are downright rude. Come prepared to have your eyes opened and leave more confident in your abilities to communicate and build relationships

Your Professional Courtesy training was excellent.Your teaching style really made my staff very comfortable and accepting to all of the techniques and skills you wanted to impart to them. I would highly recommend this training to any employer who desires to obtain or sustain a professional environment. The training was simply AWESOME!
Because of your training, our work environment has become much more professional. Each employee now recognizes how they impact the environment and all of the opportunities they have to impact it. Thanks Karen for helping me create and sustain an professional environment for the Fort Wayne Boys and Girls Clubs.